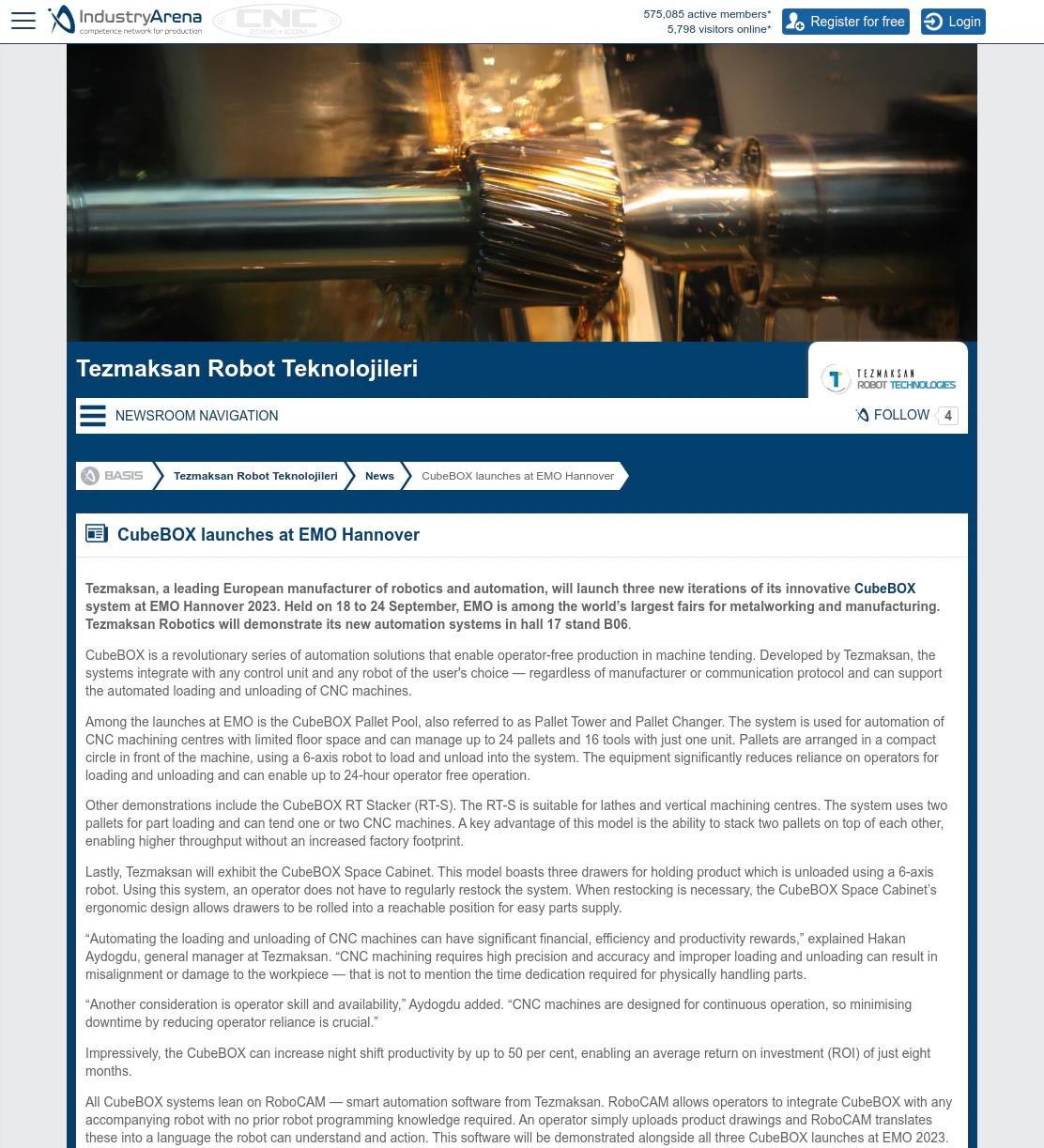 CubeBOX launches at EMO Hannover
Tezmaksan, a leading European manufacturer of robotics and automation, will launch three new iterations of its innovative CubeBOX system at EMO Hannover 2023. Held on 18 to 24 September, EMO is among the world's largest fairs for metalworking and manufacturing. Tezmaksan Robotics will demonstrate its new automation systems in hall 17 stand B06.
CubeBOX is a revolutionary series of automation solutions that enable operator-free production in machine tending. Developed by Tezmaksan, the systems integrate with any control unit and any robot of the user's choice — regardless of manufacturer or communication protocol and can support the automated loading and unloading of CNC machines.
Among the launches at EMO is the CubeBOX Pallet Pool, also referred to as Pallet Tower and Pallet Changer. The system is used for automation of CNC machining centres with limited floor space and can manage up to 24 pallets and 16 tools with just one unit. Pallets are arranged in a compact circle in front of the machine, using a 6-axis robot to load and unload into the system. The equipment significantly reduces reliance on operators for loading and unloading and can enable up to 24-hour operator free operation.
Other demonstrations include the CubeBOX RT Stacker (RT-S). The RT-S is suitable for lathes and vertical machining centres. The system uses two pallets for part loading and can tend one or two CNC machines. A key advantage of this model is the ability to stack two pallets on top of each other, enabling higher throughput without an increased factory footprint.
Lastly, Tezmaksan will exhibit the CubeBOX Space Cabinet. This model boasts three drawers for holding product which is unloaded using a 6-axis robot. Using this system, an operator does not have to regularly restock the system. When restocking is necessary, the CubeBOX Space Cabinet's ergonomic design allows drawers to be rolled into a reachable position for easy parts supply.
"Automating the loading and unloading of CNC machines can have significant financial, efficiency and productivity rewards," explained Hakan Aydogdu, general manager at Tezmaksan. "CNC machining requires high precision and accuracy and improper loading and unloading can result in misalignment or damage to the workpiece — that is not to mention the time dedication required for physically handling parts.
"Another consideration is operator skill and availability," Aydogdu added. "CNC machines are designed for continuous operation, so minimising downtime by reducing operator reliance is crucial."
Impressively, the CubeBOX can increase night shift productivity by up to 50 per cent, enabling an average return on investment (ROI) of just eight months.
All CubeBOX systems lean on RoboCAM — smart automation software from Tezmaksan. RoboCAM allows operators to integrate CubeBOX with any accompanying robot with no prior robot programming knowledge required. An operator simply uploads product drawings and RoboCAM translates these into a language the robot can understand and action. This software will be demonstrated alongside all three CubeBOX launches at EMO 2023.
"RoboCAM and CubeBOX are essential technologies for the flexible and serial production system model — an engineering style that Tezmaksan has pioneered for several decades," added Aydogdu.
Tezmaksan's presence at EMO Hannover 2023 will offer attendees firsthand demonstrations of the three new CubeBOX systems. Visitors will also have the opportunity to discuss their requirements with the Tezmaksan engineering team, who can provide consultation on automated technologies for machining.
06.09.2023