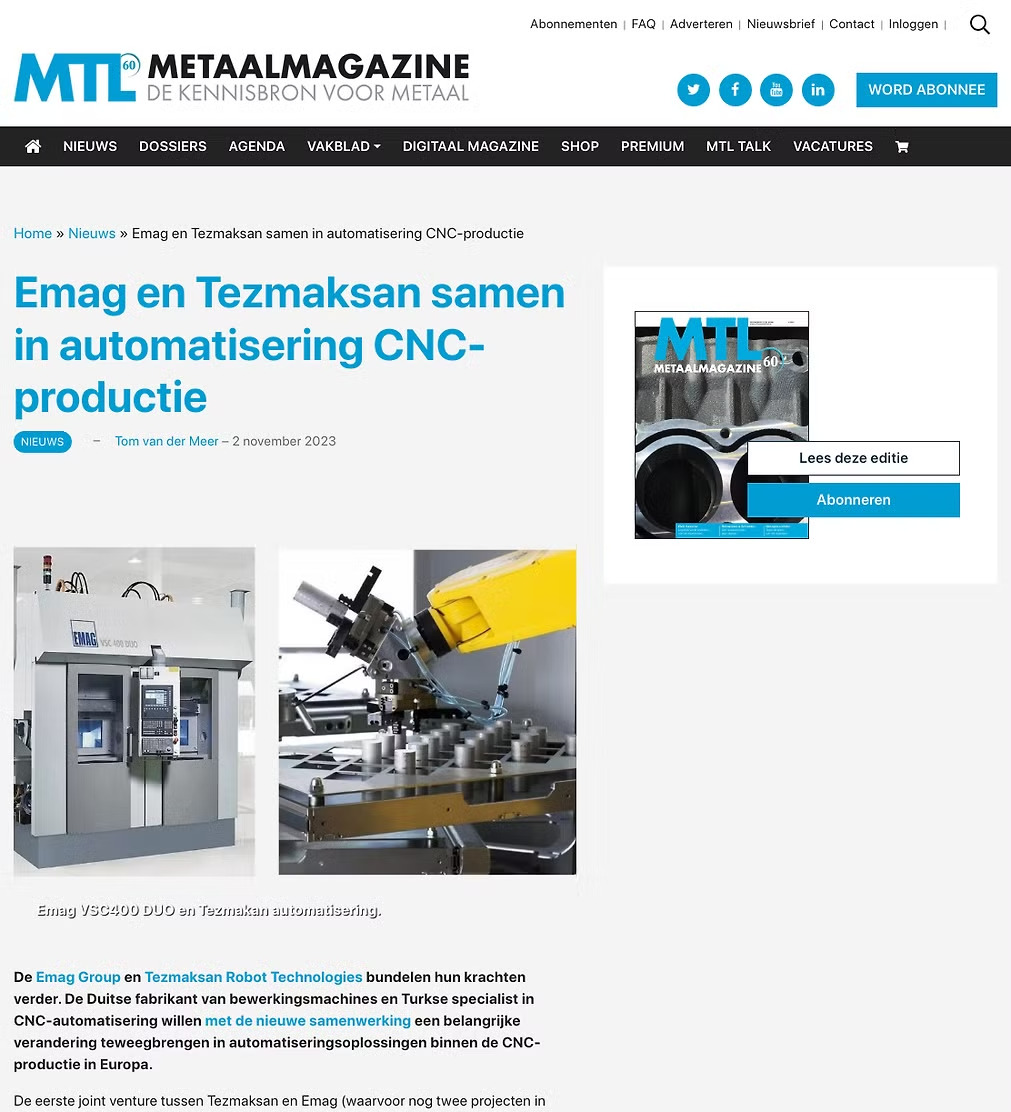 Emag and Tezmaksan together in automation CNC production
The Emag Group and Tezmaksan Robot Technologies further join forces. The German machine tool manufacturer and Turkish specialist in CNC automation want to bring about an important change in automation solutions within CNC production in Europe with the new collaboration .
The first joint venture between Tezmaksan and Emag (for which two more projects are in the pipeline) was completed in May 2023. This included the implementation of ten advanced production lines at the KamLitKZ factory, an industrial plant in Kazakhstan.
Braking systems are produced here for commercial vehicles in the automotive sector. The main goal of this project was to optimize production lines, drastically increase capacity and improve operational efficiency.
Streamlined handling
This automation solution uses the Emag VSC400 DUO and the Klingelnberg C50 machines. Ten industrial robots are central to the system, including nine with a load capacity of 150 kg each and one with a load capacity of 280 kg.
The robots ensure streamlined handling of workpieces, which were initially stored in baskets, and accurately place them in the correct fixtures.
After the machining process, the parts are thoroughly cleaned and placed back in the baskets as finished products.
Quality control
In this automated production process, quality control is of the utmost importance. Finished parts are systematically transported to the SPC (statistical process control) station at predetermined intervals, as set via a user-friendly interface.
In the final stage, the products are marked with QR codes and carefully placed in the designated finished product inventory area.
Long-term agreement
This collaboration allows Tezmaksan "to showcase the innovative capabilities of our systems and drive efficiency and productivity improvements in the European machine tool sector," said Hakan Aydogdu, general manager Tezmaksan.
The previous success has led to a long-term agreement. The two projects to follow are the Emag project in Mexico and the new Emag/CubeBOX project.
"By bringing our revolutionary robotic automation solution CubeBOX to a broader audience, manufacturers can increase productivity, reduce downtime and stay competitive in the ever-changing landscape of CNC automation," said Aydogdu.
02.11.2023